Part 1: Engaging students not interested in STEM
You might be realizing at this point in the year that you're having a difficult time engaging with your pre-scientist. From our experience, this is primarily for one of two reasons:
Your student is not interested or thinks they're not interested in STEM.
We're publishing a two part blog series to support STEM pen pals who are having a difficult time engaging with their pre-scientist. In part one of our series, we're covering reason #1: "Your student is not interested or thinks they're not interested in STEM." In this blog post we're discussing the importance of mentorship regardless of STEM interest and ways you can try to engage your pre-scientist in STEM.
Engaging your pre-scientist who seems like they're not interested in STEM: 
One of our program's goals is to empower pre-scientists to feel confident that they will be successful and belong in STEM if they choose to pursue a career in STEM, not to successfully convince all students to pursue a STEM career. Our program is a no-opt out one, which means all students on an LPS teacher's roster participate in the program, regardless of their current interest in STEM. We use this model because we know many middle schoolers have not had formal science class in elementary school, and therefore want to give every student the opportunity to fall in love with STEM. 
Sometimes, after a yearlong correspondence with their STEM pen pals, pre-scientists share that they're inspired to become an engineer, or mathematician, or biologist. Other times, they don't — and that's OK! Not all pre-scientists are interested in STEM. 
The keyword in our program goal, previously described, is empower. First and foremost, you are your pre-scientist's mentor. If you are paired with a pre-scientist not interested in STEM, you are still an important role model for them and it's very important that you support your pre-scientist no matter their interests. Your role as a STEM pen pal mentor is to empower your pre-scientist to believe in themself.
In an ideal world, we would love to see all of our pre-scientists end up in STEM fields because the STEM sector needs their perspectives, diverse perspectives fostered by different life experiences. STEM is dominated by professionals from affluent backgrounds who have had opportunities and have been encouraged to explore STEM in school, which isn't always the case for our pre-scientists. 
Sometimes pre-scientists who are not interested in STEM present challenges for STEM pen pals trying to engage their pre-scientist, especially when they are talking about their careers. At this point in the year, STEM pen pals may be noticing they have a pre-scientist who is not interested in STEM, and if this is the case for you, we're here to help! 
First, it's important to distinguish between a student who is actively interested in something they perceive to be not STEM related (for example, they share that they really want to become a writer when they grow up), and someone who maybe doesn't seem interested in your career or science class generally who may just need to find the right connection to STEM to become hooked. In both cases, we encourage you to share examples of how your pre-scientist's interests and aspirations could relate to STEM. And, in both cases, we recommend encouraging them to pursue their interests, STEM related or not.
For example, if your pre-scientist wants to become a writer, you could share about science writing careers and explain why it's important for scientists to be effective writers to expand your pre-scientist's knowledge of writing careers. 
If your student is expressing a strong interest in art, you could incorporate art into your letter with science content. For example, one pen pal started a cartoon about how the Science Master could save the ocean (below). He drew the first four parts and included them in his letter. He then asked his pen pal to draw the next part of the story and send it back in his next letter. They continued to draw the story together throughout the year, and this student went from not very excited about his pen pal to asking frequently when he would receive the next letter. This idea demonstrates the STEM pen pal was really listening to what the student was in to and came up with such a creative way to engage them in science and art together!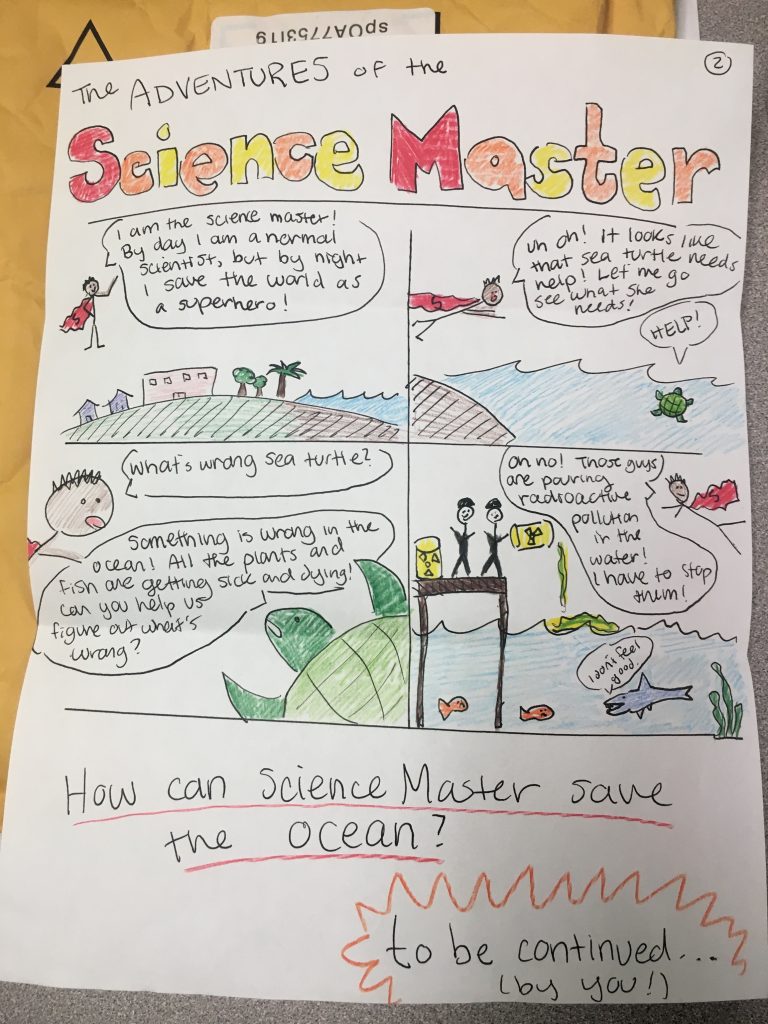 If your student shares they just aren't really interested in STEM, but doesn't suggest anything else they're interested in as a potential career, try connecting a hobby to STEM. The beauty of STEM is that almost anything can be related to STEM. Below is a perfect example from a real pen pal last year. Not only did this pen pal internalize the content of his pen pal's letters, but they went out of their way to include ways their pen pal could explore dog research beyond the letter and created a letter that was super engaging.
"My penpal talked often about his interest in dogs, so I looked up whether there is any dog research going on in his state (he expressed interest in going to a college close to home). It turns out there are so many cool people doing amazing research on dogs in Georgia (from Neuroimaging and behavior to developing technologies for rescue and service dogs)! I compiled a list of my favorite projects I found and summarized them for my penpal, including email addresses for the lead researchers and possible collaborators at the university in his hometown. I wrote all the info on some silly dog notecards that I had lying around my apartment. I wanted to give my penpal some useful information in case he wanted to pursue his interest in dogs in college, but I also just wanted to let him know that, no matter what he loves, there are lots of other people near him who share that love too, and there are ways to turn that love into a career in science if he wants to." 
Sometimes you have to be very creative to find connections between your pre-scientist's interests and STEM, and other times it comes more naturally. In every case, your role is to be a mentor and support your pre-scientist regardless of their interests.