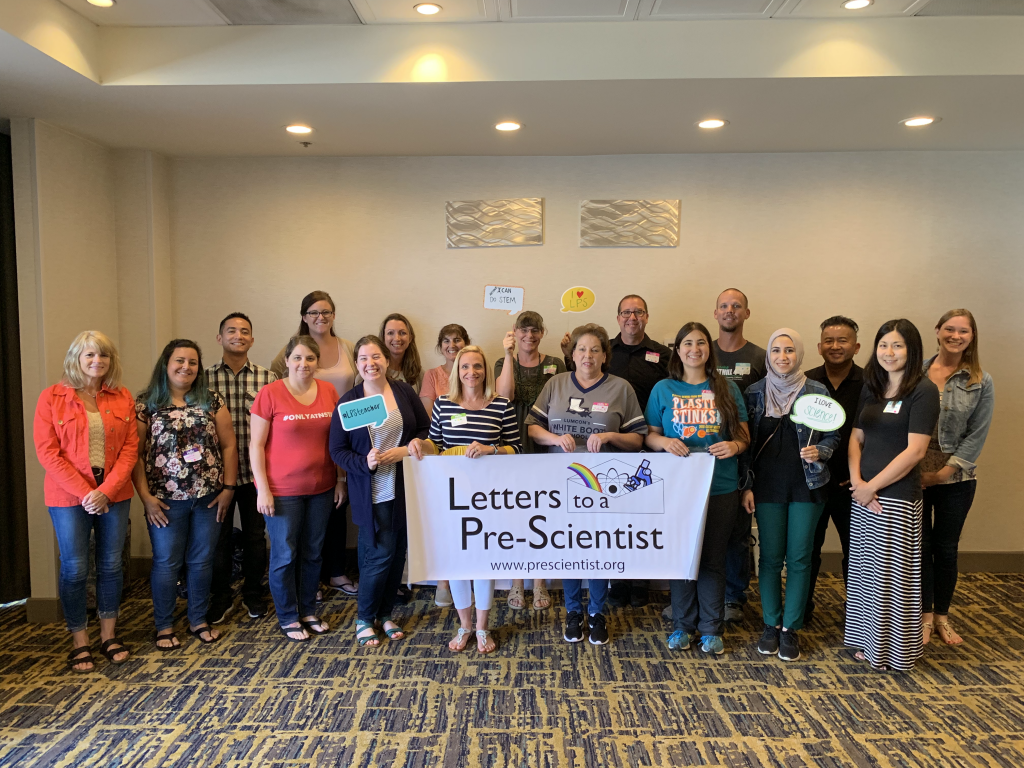 Are you a 5-8th grade STEM teacher who wants to connect your students with real STEM professional mentors to help them see themselves in STEM? 
Apply to host the 22-23 Letters to a Pre-Scientist program! 
Hosting the pen pen program in your classroom is a serious, year-long commitment. Please read the information below carefully before applying.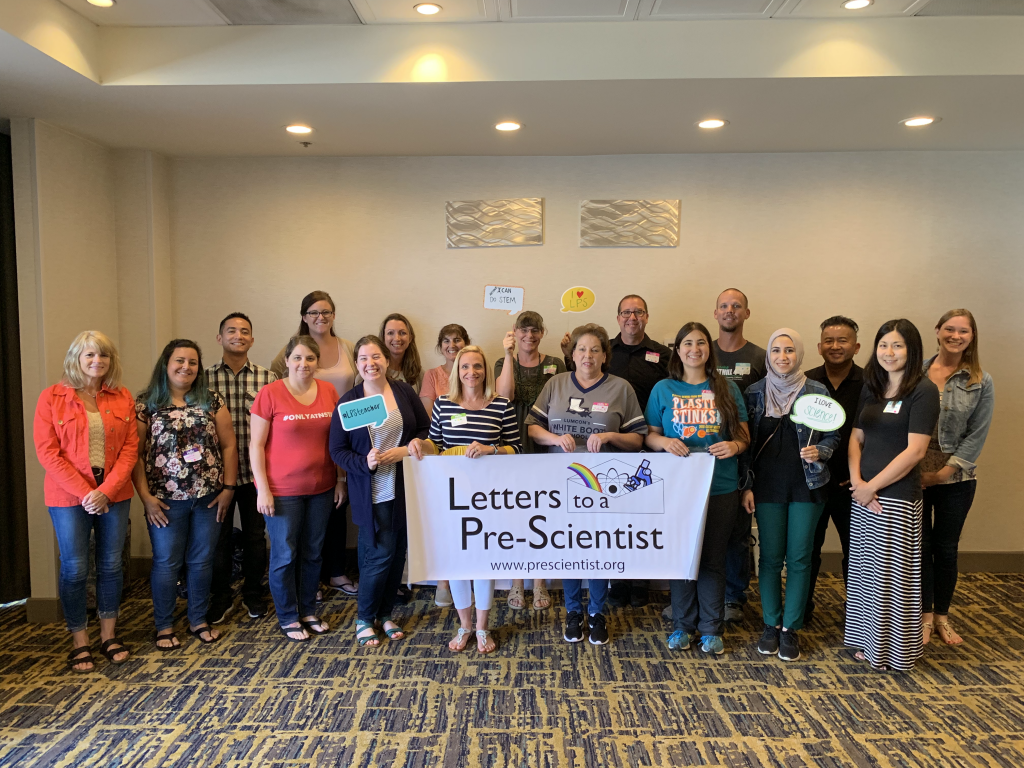 "LPS has been one of the best things I've done in my career. I'm always grateful for being included in such a dynamic and well-conceived program."
"I have students who really made connections with their penpal and by the end of the year were stating that they would like to become scientists when they grow up."
"I was impressed with my student drawings at the end of the year and how diverse they were. It attests to how powerful this program is."
"One of the most important things that LPS has done for my students is letting students see the people behind the curtain, letting them understand that scientists are people just like them."
"Seeing the smiles on everyone's faces when the letters arrived. Middle School students can be too cool sometimes, so it was nice to see almost a childish glee from receiving a letter."
Broaden students' awareness of the people who work in STEM (the diversity of their identities).
Broaden students' awareness of the scope of STEM careers (the locations, workplaces, fields of study, degrees, etc).
Support students to discover their talent and potential to have a future in STEM if they choose!
Letters to a Pre-Scientist is a year long, snail mail pen pal program that connects your students with a worldwide network of real STEM professionals to demystify STEM careers, humanize STEM professionals, and empower all students to explore a future in STEM. 
All students deserve the opportunity to explore STEM careers, which is why we partner directly with you, STEM teachers, to make the program happen during instructional time. We work with you to facilitate the program for every student on your roster.
We aim to give students as much agency as possible during the program because we know your students are more engaged when they have the opportunity to explore topics that are interesting and relevant to them. We also find that students are more willing to practice their writing when they know someone is really going to write them back. Students will learn about and then share their STEM interests with us, then we will pair each student with their own pen pal who has expertise that matches their interests.
We're extremely lucky to work with an incredibly dedicated and talented network of thousands of STEM professionals who can't wait to write back and forth with your students. They represent all major branches of STEM, work in many different sectors, and are at varying stages in their careers.
About once a quarter, you will host a Letter Opening Party where students get to open a letter from their STEM pen pal, read it, do some type of activity with it to process and share the content with their peers, then write a reply back. This is the most fun part of the program!
With lots of support from our curriculum, resources, and staff, you'll guide students to write letters and address envelopes. Then, you'll collect the sealed envelopes and mail them out to STEM pen pals around the world! Throughout the following six weeks, you'll collect reply letters from STEM pen pals that arrive at your school and, when you have one for every student, begin the process all over again!
There are four letter rounds per school year; each round has a theme. In addition to addressing the theme, we encourage students to share their stories and ask lots of questions to connect authentically with their pen pal. Read about one student's experience on our blog. Over the course of the year, students write four letters and STEM pen pals write four letters.
Our founder was a middle school science teacher. Our current CEO was a middle school science teacher. We know a thing or two about the demands of your job, and we've done our best to create a program that comprehensively supports you so you can focus on supporting your students. 
There's no doubt that hosting the LPS program in your classroom is extra work, but we've tried to take everything we can off your plate so you can help students build connections with their pen pals.
Here's an overview of what you can expect:
Access to an editable NGSS and Common Core aligned LPS program curriculum with over 10 lessons. Each lesson is available in an in person and virtual format and includes leveled instructional materials. Many of our worksheets are available in Spanish, and we can work to get them translated into other languages as needed.
A dedicated LPS team who will support program implementation in your class. Our program staff's primary responsibility is to make sure 100% of your students receive a letter from their STEM pen pal every round. They take care of all communication with the STEM professionals matched with your students, and are available to help solve any challenge that comes up throughout the year.
The opportunity to join a community of like minded STEM teachers from around the US. We have a summer conference and optional monthly meet-ups to share best practices and troubleshoot challenges. We use Slack for ongoing communication to share teaching resources, opportunities, and program wins! There is a wealth of knowledge in our teacher community – some of our teachers have been hosting the program for 5+ years, and have been teaching for over 25!
We'll purchase and ship all materials (like stamps and envelopes) you will need to facilitate the program to your school for free.
Please carefully read the list below to determine if you and your students are eligible for the 2022-23 LPS program!

 

1. We exclusively work with teachers at schools where at least 60% of students qualify for Free or Reduced Price Lunch (FRL) –

Check your school's percentage

!

2. We work with teachers who teach at least one of the following subjects: Science, Technology, Engineering, Math.
3. We work with students in grades 5-8. 
4. We don't work with first year teachers because the additional tasks associated with facilitating the LPS program are not reasonable to expect a new teacher to be able to execute effectively.
5. We don't work with teachers during the first year they move to a new school (even if they're experienced teachers) because there are just too many unknowns to adjust to when joining a new school.
6. We will be adding teachers who work in the following states: Alabama, Arkansas, Arizona, California, DC, Delaware, Georgia, Hawaii, Illinois, Louisiana, Maryland, Mississippi, Nevada, New Mexico, Oklahoma, South Carolina, and West Virginia. If you work in a state not listed, please consider signing up for our mailing list to be notified when we expand beyond these states!
 
 
– Applications are currently open for the 2022-23 school year! We will begin reviewing applications in mid May.
– We will conduct phone interviews in May and June, and teachers will be selected and notified by the end of June.
– During the summer, we will work to get the program approved at your school.
– There will also be a mandatory, 1.5 day virtual conference during the summer, sometime between mid July and mid August – exact date TBD.
– The program begins at the start of your school year, and runs through the academic year, with approximately one letter exchange per quarter. There are a few additional activities to facilitate at the start and end of the year. We estimate the program requires at least 10 60-minute class periods spread throughout the year to successfully implement. We set program milestones individually with each teacher so we can consider their specific school calendars.
Teacher recruitment is closed
We are no longer recruiting teachers for the 2022-23 school year. If you're interested in hosting the program in your class next year, please sign up to receive our newsletter (subscribe below) to receive program updates including teacher recruitment details in the spring.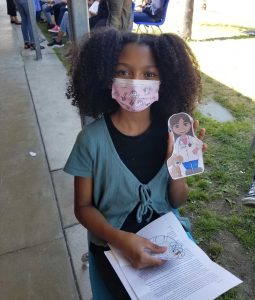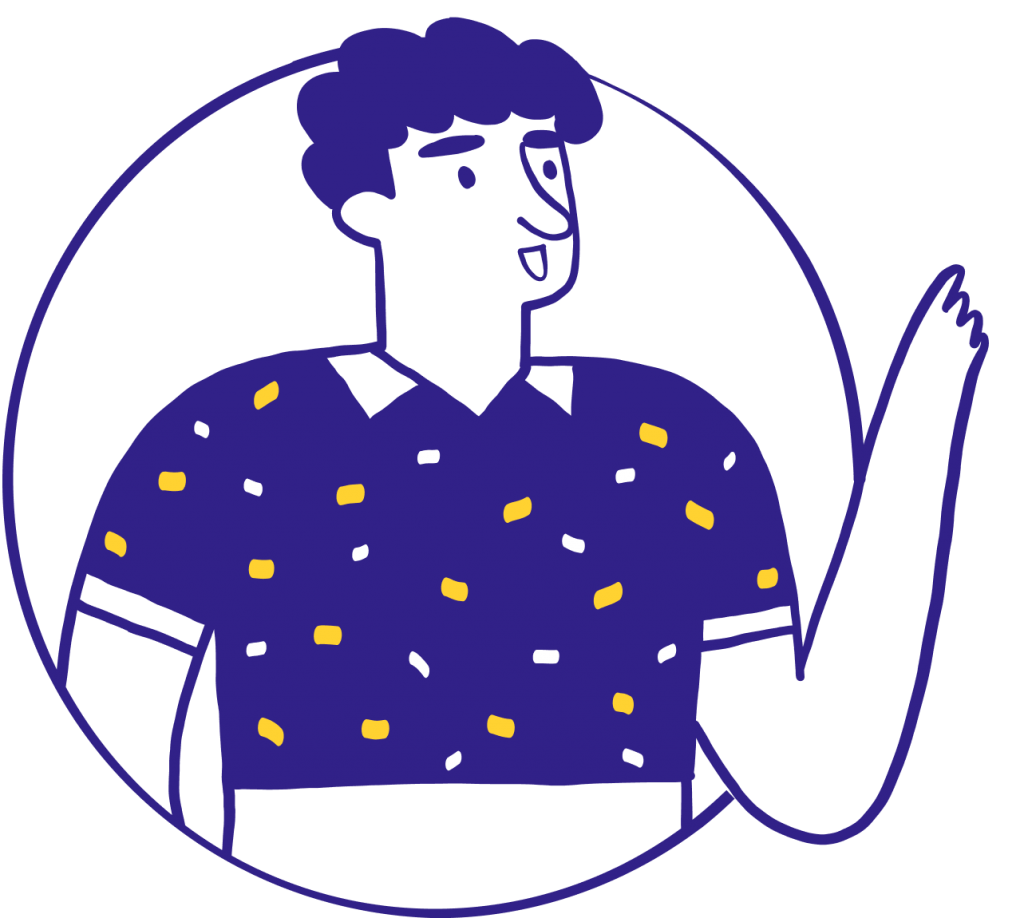 Subscribe to our newsletter for more impactful stories